BERETS PUBLICATIONS INTRODUCES NEW BAND AND ORCHESTRA FLASHCARDS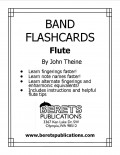 We're proud to introduce our new Band and Orchestra Flashcards!  Our flashcards are loaded with features to help you or your students learn an instrument.  Each set of  flashcards include:
Easy to read music notation on one side
Note names and fingerings, including many alternate fingerings where appropriate, on the other side
Enharmonic equivalents
Instructions and helpful hints for each instrument
Individual packs are available at local music stores!  Visit our Find a Dealer page for a store near you.
NEW MUSIC
We're proud of our new music!  Summer Suite depicts a fun, carefree day in the life of a twelve-year old, with swimming, biking, naps and rollercoasters!  Hymn for Band provides young bands with an opportunity to practice good breathing, tone, and long phrases.
For string orchestras, Allegro Tempestoso uses a simple rhythmic figure as a stepping off point for an exciting and beautiful composition.  And, Rondo Humoresque (The "Help Me" Rondo) as nothing to do with the Beach Boys tune, but it's really fun!
Welcome

Welcome to our web page.  In additin to our  band and orchestra flashcards, we also have new music to show you for band and orchestra, with more on the way by rising star Kyle Hanks.
From our site you can:
Listen to complete recordings of each work
View complete scores
Order any of our music using a purchase order or credit card
Again, welcome to our website. Feel free to listen, view, and enjoy!
Lantz Berets